THE BRANCHES
The branches and leaves on the tree represent your time. We are all given the same amount of time in the day. The branches represent the balance wheel of your life. Do you spend your time at work? Is it a job you love or hate? Do you spend time at home? Is it a happy home? Do you spend time with family? How are those relationships? Do you spend time in isolation? Do you spend time giving? Do you spend time exercising? Do you make time to connect to friends and loved ones?
THE TRUNK
The trunk of the tree represents the body you physically carry with you every day. Many questions can be answered about the trunk of the tree.. Do you look happy or sad? Are you stressed or relaxed? Do you take care of your body? Do you eat healthy ? Are you active? Do you give your body the rest it needs? Are you confident or fearful? Do you love your body? We are only given one body and it needs to last a lifetime.
THE ROOTS
The part of the tree that is harder to see, and sometimes buried very deep, are the roots. The roots of the tree started growing before you were even born. The roots are your thoughts, perceptions and memories that have grown with you your entire life. People cannot see the roots, or know exactly what you are thinking, but these thoughts, perceptions, and memories, control every aspect of your life. Everything we do, every decision we make, is based on our past experiences and the meaning we have attached to those experiences. "Those past experiences and their meanings determine our positive or negative self talk. Do you think bravely of fearfully? Do you live in shame or wholehearted? Do you think kindly of yourself or are you mean to yourself? Do you live in gratitude or resentment? If you truly desire to make a tree healthier, you have to feed the roots. Changing the way we think and speak to ourselves takes time and practice. The Phasco program will empower you to change your thoughts and to help you get more of what you want and less of what you don't want. When you control your thoughts, you control your actions, when you control your actions, you control you life. Your tree grows stronger and healthier."
ABOUT PATRICK & HEATHER
Patrick and Heather graduated from the University of Alberta in 1997 (Heather) and 1998 (Patrick) and spent the first years of their career working at the University of Alberta Hospital as in-patient pharmacists. They moved to Rimbey in 2004 with their 2 boys and took over ownership of the local drug store, Rimbey Value Drug Mart. Patrick worked full time in the drug store and Heather practiced as a pharmacist at the Rimbey hospital and Long term care centre. In his spare time Patrick ran a local quitting smoking program empowering many people to become tobacco free. After almost 20 years of professional practice,14 years of community practice, and filling close to a million prescriptions, it was time for a change.
Patrick had determined that although medications can help heal illnesses, they do a very poor job of preventing disease and maintaining good health or improving happiness. With an altruistic attitude of helping people, beyond just medications, Patrick started researching alternatives to medications for healing the Mind, the Body and the Soul. In 2017 Patrick and Heather sold the pharmacy to pursue the journey of helping others find their path to happiness. Phasco Health was born.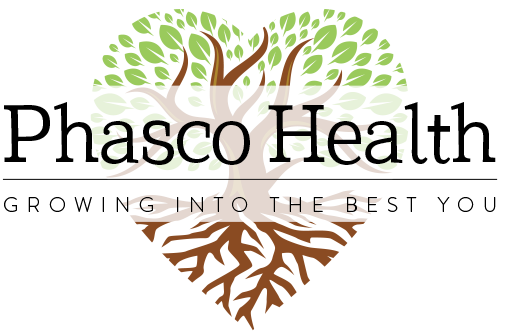 Phasco Health is an education based program providing people with an assortment of tools and actions that will allow the individual to take control of their health and ultimately their life. Benefits of the program may include weight loss or management, better sleeping, healthier relationships, more peace, more energy, and a redefining of life purpose. Classes will be held locally and a web based learning platform will be created in the near future. PHASCO is an acronym for Peace, Happiness, Abundance, Significance, Connection (love), and Openheartedness (vulnerability).
MEET OUR TEAM
VISION STATEMENT
To be the leading organization empowering people to grow into their truest potential by providing a path to Peace Happiness and Abundance both personally and relationally so they can live Lives of Significance Connection and Open heartedness.
MISSION STATEMENT
To develop a systematic series of learning tools for everyday people to educate and empower growth through courses, seminars, couple, and individual processes to create the roadmap to their personal happiness.
CORE VALUES OF PHASCO
GRATITUDE

RESPECT

INTEGRITY

VULNERABILITY

CREATING VALUE IN ALL THINGS